Grilled cheese is a classic and beloved hot sandwich that is easy to make. It is typically made by heating cheese between two slices of bread with a cooking fat like butter or mayonnaise on a frying pan or griddle until the bread is golden brown and the cheese is melty. The key to making a delicious grilled cheese sandwich is selecting a cheese that melts well and has a good flavor profile. American, cheddar, pepper jack, havarti, gruyere, Monterey Jack, and brie are ideal melting cheeses for grilled cheese sandwiches.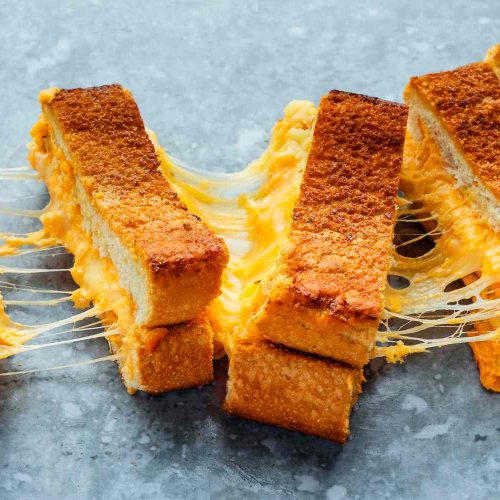 Grilled Cheese
Grilled cheese is a classic American sandwich that consists of toasted bread and melted cheese. It is a simple and comforting dish that is enjoyed by people of all ages. The key to a good grilled cheese sandwich is to use good quality bread and cheese, and to cook it slowly to ensure the cheese is fully melted and the bread is perfectly toasted.
Ingredients
44

slices of bread

1/2

cup

sharp cheddar cheese

1/4

cup

butter, melted
Instructions
Pre-heat the Dutch oven at 360degreesF

Put cheese and butter in separate bowls.

Apply the butter to each side of the bread slices with a brush

Spread the cheese across two of the slices of bread and make two sandwiches. Transfer both to the fryer

Cook for 5 – 7 minutes or until a golden-brown color is achieved and the cheese is melted.
Notes
Nutrition: Calories: 170 Fat: 8g Carbs: 17g Protein: 5g
Nutrition
Serving:
1
g
Calories:
170
kcal
Protein:
5
g
Fat:
8
g
Ideas for customizing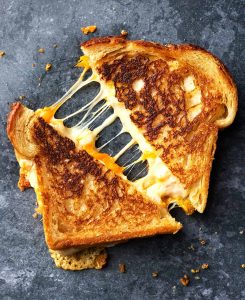 Here are some ideas for customizing Grilled Cheese:
1. Add bacon: Crispy bacon adds a salty, savory flavor that pairs well with cheese. Simply cook a few strips of bacon until crispy, then add them to your Grilled Cheese sandwich.
2. Use different types of cheese: Experiment with different types of cheese to create unique flavor combinations. Some options to try include cheddar, Swiss, gouda, or even a spicy pepper jack.
3. Add tomato: Sliced tomato adds a fresh, juicy element to Grilled Cheese. Simply add a few slices to your sandwich before cooking.
4. Use sourdough bread: Sourdough bread has a tangy, slightly sour flavor that complements the richness of the cheese. It also has a crispy exterior that gives your sandwich a satisfying crunch.
5. Add avocado: Sliced avocado adds creaminess and richness to Grilled Cheese. Simply add a few slices to your sandwich before cooking.
6. Use different spreads: Instead of butter, try spreading mayonnaise or pesto on the bread for added flavor.
7. Add caramelized onions: Sautéed or caramelized onions add a sweet, savory flavor that pairs well with cheese. Simply cook sliced onions in a bit of oil or butter until golden brown and soft, then add them to your sandwich.
Tips to cooking
Here are some tips to cooking Grilled Cheese:
1. Use room temperature ingredients: Allow the cheese and butter to come to room temperature before making the sandwich. This helps the cheese melt evenly and the bread to cook evenly.
2. Use a non-stick skillet or griddle: A non-stick surface prevents the cheese from sticking and makes it easier to flip the sandwich without it falling apart.
3. Use a combination of butter and mayonnaise: Instead of just using butter to spread on the bread, mix it with mayonnaise for a more even browning and added flavor.
4. Cook on low heat: Cooking on low heat ensures that the cheese melts evenly and the bread doesn't burn. A slow and steady cook time is key to a perfectly crispy and gooey Grilled Cheese.
5. Cover the skillet: Covering the skillet with a lid or foil helps the cheese melt faster and more evenly.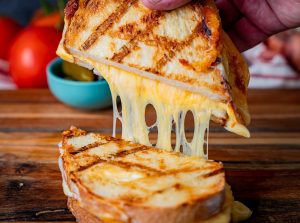 6. Flip the sandwich only once: Resist the temptation to flip the sandwich multiple times. Flip it once and let it cook until the cheese is melted and the bread is golden brown.
7. Let it rest before cutting: Let the sandwich rest for a minute or two after removing it from the skillet. This allows the cheese to set and prevents it from oozing out when you cut into it.
Serving Suggestions
There are many ways to serve and enjoy grilled cheese, depending on personal preferences and dietary restrictions. Here are a few ideas:
1. Classic pairing: Serve your grilled cheese sandwich with a side of tomato soup for a classic and comforting meal.
2. Fresh greens: Add a side of fresh greens, such as arugula or spinach, to your grilled cheese sandwich to balance out the richness of the cheese.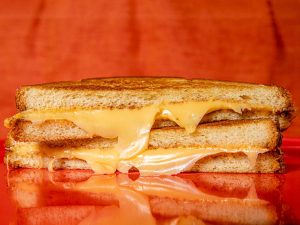 3. Pickles: Serve your grilled cheese with a side of pickles for a tangy and crunchy addition.
4. Dipping sauces: Experiment with different dipping sauces, such as ketchup, hot sauce, or honey mustard, to add extra flavor to your sandwich.
5. Add-ins: Customize your grilled cheese sandwich with add-ins such as bacon, avocado, or tomato slices.
6. Fruit pairing: Serve your grilled cheese with fresh fruit, such as sliced apples or grapes, for a sweet and savory combination.
7. Breakfast twist: Turn your grilled cheese into a breakfast sandwich by adding a fried egg or bacon.
8. Alternative bread: Switch up the bread used in your grilled cheese, such as using sourdough, rye, or even cinnamon raisin bread for a sweet twist.
9. Open-faced: Try making an open-faced grilled cheese by toasting bread with cheese and toppings in the oven.
10. Mini sandwiches: Make mini grilled cheese sandwiches for a fun appetizer or snack.